HRC Letter to Target and BestBuy
The Human Rights Campaign today published an open letter to Target and Best Buy following outrage over their donations totaling $250,000 to MN Forward, a conservative PAC supporting anti-gay gubernatorial candidate Tom Emmer.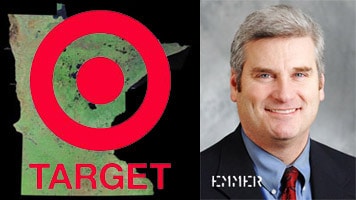 The letter, which notes the two corporations consistent 100% ratings on HRC's Corporate Equality Index, urges the companies to "make it right" with equivalent donations "to groups that support candidates who will put all Minnesota families first and fulfill the promises of our highest ideals."
Reads the letter, in part:
Now, Americans are questioning their loyalty to your brands with word of significant contributions to the political action committee MN Forward that hopes to install one of the most strident opponents of equality in the Minnesota Governor's mansion. With these contributions, you have severely damaged those carefully cultivated reputations and violated the spirit of the gold standards bestowed on you. In fact, the long-term effects on families that shop at Target and Best Buy throughout Minnesota and the U.S. will be devastating.

At this critical time in Minnesotans' quest for equality, MN Forward and the candidates they are supporting would turn Minnesota backward, away from the promise of equal opportunity and fairness that we hold dear. No matter your motivations in making these donations, they didn't occur in a vacuum. Same-sex couples in your home state are denied the equality given to other couples in marriage and many state leaders are poised to right that inequity very soon. $250,000 in contributions to those who would stand in the way is a punch in the gut to those of us who want to see all families treated fairly. What may have sounded like a "good business decision" in the board room turns out to be a horribly short-sighted business decision when millions of consumers lose respect for your companies.
HRC is publishing the letter in a full-page ad in the Minnesota Star-Tribune, and encouraged its members, via email this afternoon, to add their names to it.
Earlier this week, the group said that it currently had no plans to revise the corporations' ratings on the CEI due to the fact that political contributions are not a factor in calculating the ratings, but left the door open for future changes:
"In 2011, for example, there will be nearly a half-dozen new criteria that will be added for evaluation. Criteria will continue to evolve as we come into new information."
Read the full letter, AFTER THE JUMP…