Rehearsals are deep in progress for the New York revival of Angels in America: A Gay Fantasia on National Themes. That looks like a rendering of the Angel herself (Weigert's role). People always forget that the play is very funny and the angel is as ridiculous as she is fierce. "I I I I I I I" . Both parts of the Pulitzer Prize winning epic, Millennium Approaches and Perestroika, will play in repertory. Tickets go on sale on August 3rd for a very limited run. One assumes Quinto's schedule has to free up when the cameras roll on that Star Trek sequel in January 2011.
I interviewed the actress Robin Bartlett (who plays Mother Pitt, Ethel Rosenberg and four other roles) during their first week of rehearsals. We talked a bit about her vivid movie cameos like the ones in Postcards From the Edge and Shutter Island  but we mostly discussed the play and how resonant and timeless it is despite its specificity in dealing with the AIDS crisis in 1985/1986 New York City. "We started off with a table read of both plays with Tony there. Spent two days just sort of bouncing things off of him and soaking whatever he had to tell us about both the play and the circumstances under which it was written," The actress says. "It's interesting because there are so many people under 30 in the play who were not — well they were alive but they weren't engaged at the time that the play was written — who were just really innocent of some of the horrors of it."

Among the younger actors, pictured from left to right are: Handsome rising stage star Bill Heck who'll play Joe Pitt, the closeted Mormon Republican; Zachary Quinto is Louis, Prior's guilt ridden Jewish ex-boyfriend; Billy Porter is Belize, the sharp tongued nurse to Roy Cohn and Prior's best friend; busy actress Zoe Kazan (yes, she's the granddaughter of Elia Kazan) will pop valium as Harper Pitt, Joe's abandoned wife; and Christian Borle, who is a familiar face in Broadway musicals, plays the central role of Prior, the dying "prophet" who sees the Angel but refuses her commands.
I'm guessing you've seen the terrific HBO film version. Give the DVD a spin again (it's still great), but see this thing on stage, as soon as you get the chance, wherever that may be. Even on tiny regional stages, it's epic.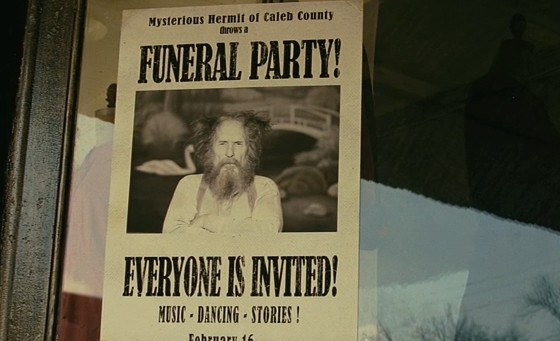 Robert Duvall starts an unorthodox Oscar campaign for Get Low


NATHANIEL ROGERS
…prefers air conditioned movie theaters to hot beaches in the summertime. He blogs daily at the Film Experience.

YOUR FEATURE PRESENTATION
Felix Bush (Oscar winner Robert Duvall is an ornery recluse In the 30s period dramedy GET LOW. It's based on Tennessee folklore about a hermit who threw himself a funeral while he was still alive. To prepare for this odd event, Bush enlists the help of local funeral director Bill Murray (no character name necessary. This is Bill Murray doing Bill Murray) and his aptly named assistant "Buddy" (played by Lucas Black). On the journey to the funeral, skeletons from Bush's closet involving a former love (Oscar winner Sissy Spacek) and an old friend (Bill Cobbs) are uncovered.
Get Low starts out promisingly with a deadly housefire which sets up the mystery of the hermit's past. Unfortunately, from then on we're constantly hearing about the Felix Bush tall tales but not the tales themselves. The movie lacks the specificity it needs to make his legend vividly felt. He's reduced, then, to a standard grumpy old man who keeps to himself. Duvall's final monologue is impressive (Ding Ding: Oscar clip!) but the movie refuses to gather enough steam to really make it hurt. And, weirder still, the funeral party sequence isn't anything like what it's hyped up to be, much like the legend of the man… or the movie itself.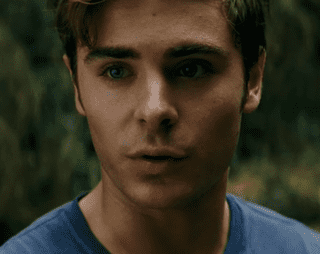 Some would argue that 2010 has been a weak movie year but we've already seen a small handful of future Oscar players (The Kids Are All Right, Inception, Toy Story 3, Winter's Bone) so it's not all bad. You can probably add Get Low to that list. The Academy may well love it as much as most critics do.
Also Opening: Zac Efron "discovers the transformative power of love" whilst chasing movie stardom(he's already got the other kind of stardom) in Charlie St Cloud . Paul Rudd and Steve Carell ad lib in Dinner For Schmucks. We've heard only terrible things about it but a lot of today's comedies seem to be flimsy premises to just hang improv on, trusting the actors to elevate it. When will someone think to write a great screenplay for our best comedic actors? A soldier returns to his Texas home in The Dry Land. Finally, don't make me mention the Cats & Dogs sequel please. Have you no mercy?
BONUS (OFFSCREEN) SCENE
What is Robin Weigert (Deadwood) laughing about? Zachary Quinto (Star Trek) and Robin Bartlett (Shutter Island) are leaning in to get a better look.
Find out, AFTER THE JUMP…