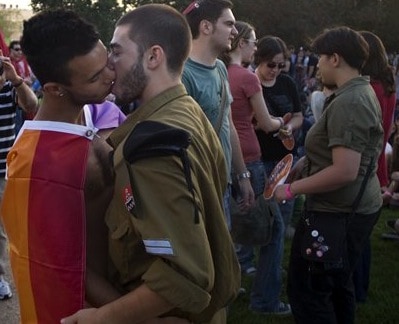 Israel's gay pride parade was pushed back about a month or so this year, so that it would fall on the one-year anniversary of the deadly shooting last year that claimed two lives in Tel Aviv. The gunman of that attack is still at large.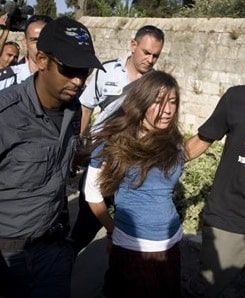 The parade, which was held in Jerusalem on Thursday, drew more than 3,000 participants.
There was no sign of the donkey cut-outs the city's ultra-Orthodox deputy mayor, Rabbi Yitzhak Pindrus, was allowed to bring to the marchafter his initial plan to march 50 real life donkeys through the streets inprotest of the parade was rejected by police. There were, natch, actual human anti-gay protesters, several of whom were arrested. Some held signs that read: "sick perverts – get out of Jerusalem."
Reports the AP:
Carrying rainbow banners, several thousand demonstrators walked along the 1.5 mile (2.5 kilometer) route. A few dozen black-suited ultra-Orthodox Jewish protesters at the beginning and end of the route held signs denouncing homosexuals, with slogans like "Gay Play in Hell, Not Jerusalem." Many ultra-Orthodox Jews consider homosexuality an abomination. Marchers said such opposition has forced the gay community of Jerusalem underground in most parts of the city. "In a religious society, a lot of people still don't realize we actually exist," said Sarah Weil, 26, who helps run an organization for lesbians who are also Orthodox Jews.
Also, yesterday, even Catholic Patriarch Fouad Twal issued a statement criticizing the march: "Leave Jerusalem to her pilgrims and faithful", he began, "(the parade's) organizers and the authorities who allow it, care neither for the feelings of families nor the holiness of this city."
I've compiled several clips of the pride-full moments at the parade. Watch them AFTER THE JUMP.