Joe McElderry, who won Britain's X-Factor last year, has come out of the closet.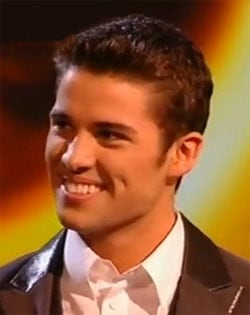 The UK Mirror reports:
"The 19-year-old X Factor winner made the brave decision to come out in an emotional interview with the Mirror, just a week after telling his mum.Joe has always denied rumours he was gay, but insisted the reason was he didn't know himself until recently.He added: 'I've had time to think about things. I wasn't attracted to anyone anyway, male or female. It never really entered my head I was gay. But I just know. It's how I feel.'… But the 19-year-old has now bravely decided to tell the world he is gay – and the denials were down to the fact he never knew himself, until three weeks ago.And he said he is comfortable with his decision to come out publicly, declaring: 'I'm happy. I now know who I am.'"
McElderry says he is not in a relationship:
"I'm single, I've not had a relationship with a boy, but I just know. It's how I feel. The Twitter thing actually helped because I realised I wasn't that bothered, and the penny dropped…I'm not worried about how fans will react. They have always said they'll back me no matter what. Everyone's been really kind so I would like to thank them and your readers for all the support."  
Watch McElderry duet with George Michael on last year's final, AFTER THE JUMP…