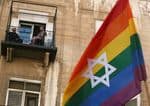 Jerusalem's District Police have changed their minds, granting permission for this month's gay pride parade to terminate at the Knesset building, followed by a rally in the Rose Garden.
This year, the parade marks the first anniversary of the infamous killings at a Tel Aviv gay youth center. Yonatan Gher, Executive Director of Jerusalem Open House, says:
"The parade route to the Knesset, on the anniversary of the murder, is the proper route to symbolize what the parade is demanding—full equal rights for the gay community in Israel and an end to the incitement, violence and silencing that we experience every day."