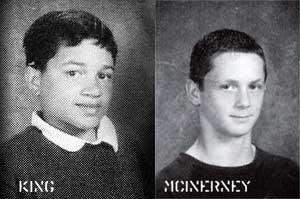 Another request for delay from the defense is expected, GLSEN writes:
"As jury selection for the murder trial of Lawrence 'Larry' King's attacker, Brandon McInerney, is set to begin today in Ventura County, Calif., GLSEN is deeply saddened by the loss of two young lives to homophobia.
McInerney allegedly murdered King at E.O. Green Junior High in Oxnard on Feb. 12, 2008 because of King's sexual orientation and gender expression. The then-14-year-old 8th grader shot his 15-year-old classmate in the head in the school's computer lab.
The trial was postponed two months ago, and defense attorneys are expected to ask for another delay today."
Said GLSEN Executive Director Eliza Byard: "The start of Brandon McInerney's trial is simply the next stage of the on-going tragedy of Larry King's murder. Whatever happens in this trial, two young lives have been lost to homophobia. One young person is dead, and another gave up his future by murdering a classmate so no one would say he was gay. We cannot allow anti-LGBT bias to continue to destroy young lives. While it is extremely rare for such torment to rise to the level of murder, the anti-LGBT bullying that Larry experienced before his murder plays out repeatedly every day in countless hallways and classrooms across America. And yet little is done to address this pervasive problem."
UPDATE: A judge has denied the defense a delay in the trial. "Judge Charles Campbell turned down the request from McInerney attorneys who were seeking more time so they can interview witnesses for the high-profile school shooting case.
McInerney, 16, is facing murder and other charges in connection with the February 2008 fatal shooting of classmate Larry King, 15, in a class at E.O. Green School in Oxnard.
After a recess, attorneys were to begin arguing pre-trial motions this morning.
'Obviously I'm frustrated and dismayed about what just happened,' said McInerny attorney Scott Wippert."