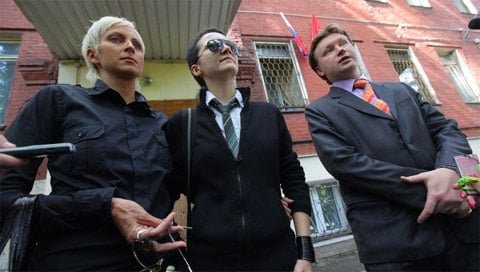 You may recall the Russian lesbian couple, Irina Fet and Irina Shipitko, who attempted to get a marriage license but were denied in 2009. They took their case to the European Court of Human Rights on Wednesday, Ria Novosti reports:
"'A complaint [on same-sex marriage] was lodged against Russia,' gay activist Nikolai Alexeyev said.
'We admit that the Russian law system [currently] forbids same-sex marriage but we hope that after the European Court's ruling, our country will be obliged to change its laws,' he said.
Alexeyev said that in rejecting to register the marriage, the Tverskoi registry office in Moscow violated Articles 8 and 12 of the European Convention on Human Rights.
He said he was confident of a positive outcome and referred to a recent Strasbourg Court ruling over a complaint from an Austrian same-sex couple.
'The Court acknowledged that same-sex marriages are protected under Article 8 of the European Convention and Article 12 doesn't cover just heterosexual marriages,' he said."