Esteemed jury, I present the evidence…

The Juliette Lewis years are slightly dark, greasy and wild while he's playing disreputable bad boys onscreen (River Runs Through It, Kalifornia, Thelma & Louise). The Gwyneth Paltrow years go platinum suggesting androgynous blue-bloods or movie glitterati (commence leading roles: Se7en, Seven Years in Tibet, Meet Joe Black). The Aniston years get golden California crunchy (and the movies get mainstream: Oceans 11, Spy Game, The Mexican, Mr & Mrs Smith). Now, like Angelina, he's a globe trotting philanthropist offscreen and alternates prestige movies (Babel, Benjamin Button) and loaded gun types (The Assassination of Jesse James, Inglourious Basterds) onscreen.
"Circumstantial evidence," you cry. True. But at the very least you'll agree that he's guilty of being great to look at. Case closed.
Oh, sorry, just one more thing. This twin routine is almost as cute as the expectation that his girl will star in a Melissa Etheridge video during their romance.
Unfortunately the Pitt/Etheridge girlfriend share has expired. Angelina hasn't been near a music video set in years.
But back to the movies. Next up for Brad is the "mystical epic"  Tree of Life from elusive auteur Terence Malick who has yet to make a film that wasn't jaw-dropping in its beauty. After that Brad will star in Moneyball, which is finally filming after a rough pre-production period. The movie star will chase that with the post apocalyptic zombie epic World War Z (based on the best seller of the same name) for 2012. Next up for Angelina is The Tourist with Johnny Depp.
BONUS SCENES


Have you watched this "35 Movies in 2 Minutes" short? It's a must for graphic design fans and film buffs alike.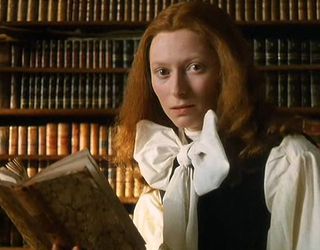 Sally Potter's Orlando, the  landmark early 90s film version of Virginia Woolf's classic, is back in specialty theaters and Tilda Swinton and Sally are making the rounds, giving good interview. That movie is just sublime. Between this gender bending nostalgia and the ravishing I Am Love, Tilda is having quite a year.

Have you ever wondered which directors were pretty enough to be in mistaken for actors? The Self Styled Siren provides a starter list from the golden age.

Are you excited for the return of Mad Men this Sunday? I can't wait to see what movies they reference this season. That show sure does love the movies. In related news, remember the operator and failed secretary "Lois" who fell for gay art director Sal (who has sadly left the show)? Well the actress just posed for Playboy in a 1960s inspired pictorial of course. Can we get some equal opportunity clothes-dropping? Jon Hamm isn't the only manly hottie on that show. Surely one of the men playing minor characters would be willing to pose for a 1960s beefcake pictorial. Who is the most desperate for publicity?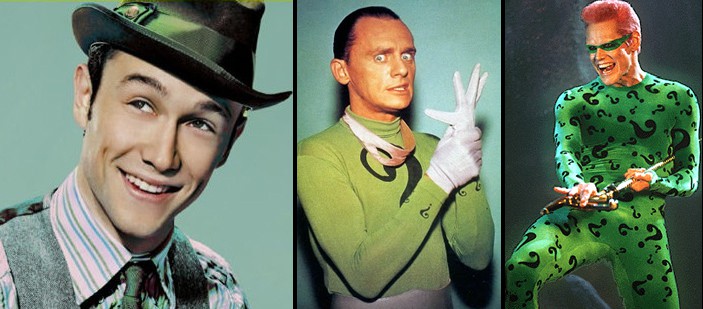 Joseph Gordon-Levitt, currently defying gravity in Inception (reviewed last week) is still on the rise. Just how much higher can he ascend? He's been dropping hints about a movie musical in his future (yay!) and the current hot rumor — a denied rumor mind you at that, though denied rumors are sometimes confirmed later in Hollywood — is that he'll play famous Bat foe "The Riddler" for Chris Nolan when the next Batman film stars production sometime in 2011. Heath Ledger's Oscar-winning Joker will be a tough act to follow (not to mention Frank Gorshin and Jim Carrey as previous Riddlers) but if anyone is up for the task…

NATHANIEL ROGERS
…prefers air conditioned movie theaters to hot beaches in the summertime. He blogs daily at the Film Experience.

NOW PLAYING
Angelina Jolie plays Jason Bourne Edwin Salt, a deadly CIA agent and alleged spy on the run in SALT. Whether or not you're lining up for a ticket will have a lot to do with how much you like Angie in action heroine mode. Her larger-than-life persona is such a natural fit for fantastical genres. In fact, you'd swear she was computer-generated if her offscreen persona weren't also so familiar. But after this latest round of action posturing, wouldn't it be great to see her in more human feral sapphic mode again (Gia, Girl Interrupted)?
But can we talk about Brad Pitt and his penchant for becoming his girlfriends… or at least matching them well both onscreen and off? Here he is at the premiere of Salt, sharing Angie's colorist. This is an endearing yet little discussed character trait of his.
More, AFTER THE JUMP…