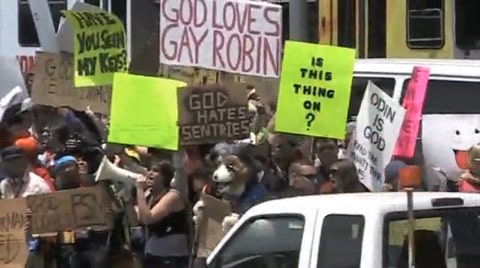 The Westboro Baptist Church brought their special brand of hate to San Diego's Comic-Con yesterday, but their "God Hates Fags" demonstration was drowned out by a much funnier one from a large group of Comic-Con counterprotesters, many dressed as characters and superheroes.
"Superman died for people's sins," "God Loves Gay Robin," "God Needs a Starship," and "Is This Thing On?" were some of the slogans on the signs meant to counter the WBC's hateful message.
Comic-con very effectively turned the WBC's whole M.O. into a joke.
Watch, AFTER THE JUMP…