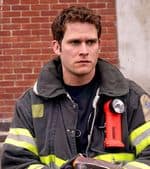 After Denis Leary quoted her husband Steven Pasquale as using the word "fags" on The Daily Show, Broadway actress Laura Benanti took to Twitter to set things straight (see above).
Meanwhile, Pasquale himself had this to say about Leary's anecdote:
"I am an actor, and I live and work in New York City. I can honestly say that half the people I know, love and respect are gay. I simply didn't say it. I'm not capable of saying it, anymore than describing my black friends as the 'N' word. I can't take any responsibility for it. None. I'm afraid Denis got his wires a little crossed in remembering that story."
Leary seems to have a compulsion to use this word.