* Carmel, Calif.
* Madison, Wis.
* Benicia, Calif.
* Fort Bragg, Calif.
* Lincoln City, Ore.
* San Diego, Calif.
* Virginia Beach, Va.
* Sioux Falls, S.D.
* Salem, Ore.
Dog Fancy magazine has placed Provincetown, Massachusetts as the most dog-friendly city in the nation, the Boston Herald reports: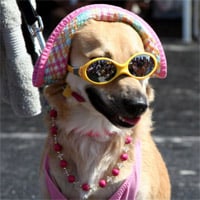 "P-town was hailed for its dog-friendly open spaces, the Pilgrim Bark Park – ranked No. 2 in the publication's national rating of dog parks – and its promotion of animal welfare, among other criteria.'All dog owners know of a few local shops or restaurants that allow dogs, but it is remarkable to have an entire town where virtually every establishment opens its doors to dogs – even the bank,' Ernie Slone, editor of Dog Fancy, said in a statement. 'Where else can you take your dog along for a whale-watching or sunset cruise, walk miles of off-leash scenic beaches year-round and enjoy one of the nation's finest dog parks?'Even prior to yesterday's announcement, it's been the Provincetown Office of Tourism and Visitor Services Board's goal this year to promote the town as a pet-friendly destination, said Bob Sanborn, the town's tourism director…Thirty-plus Provincetown hotels, inns, bed and breakfasts, private cottages and campsites welcome pets, and more than a dozen restaurants are pet-friendly."
Check out the other nine cities in the top 10, AFTER THE JUMP…