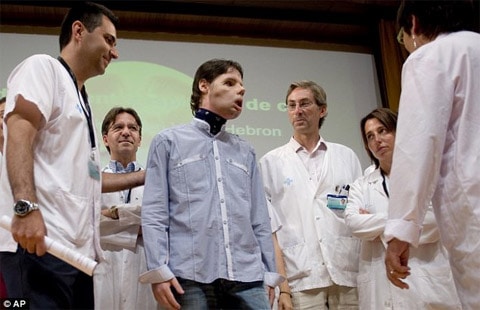 Really quite remarkable:
"As he returned home from hospital four months after his ground-breaking surgery, the 31-year-old bravely showed his new face to photographers.
The Spanish farmer, known only as Oscar, had been horribly disfigured five years ago in a shooting accident.
This prevented him breathing normally and made it difficult to swallow or speak.
But after two years of planning, a team of 30 doctors started work on him in March, in an operation which was to last 24 hours.
The transplant, at a Barcelona hospital, included complete facial skin and muscles, eyelids, nose, lips, upper jaw, all his teeth, the palate, cheekbones and lower jaw."
Pre-operative photo at link.