A new group, Outserve, has launched to facilitate the process: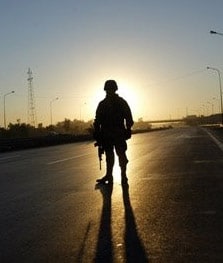 "According to the group's Co-Director, JD Smith, 'Active duty and reserve gay
and lesbian troops have been critical to the nation's defense, but almost
completely absent from the conversation. We're fixing that.' Smith, who goes
by his initials in the interest of privacy and safety, is an officer. Smith
says that OutServe has expanded by word of mouth and Facebook since its
formation as an underground network in October 2009 and now consists of
approximately 450 gay and lesbian service members, including approximately
two dozen deployed in Iraq and Afghanistan. Growth has been swift, and an
average of 15 new members are joining each week. The group verifies each new
applicant against a database of U.S. troops to ensure that only active duty
individuals join.
In response to concerns that after the repeal of '"don't ask, don't tell,'
gay troops will parade their sexual orientation or engage in other
inappropriate conduct, the group is organizing its public launch this week
around the release of a statement outlining its expectation of a smooth
transition. 'Following the lifting of the ban, it will be business as
usual,' according to the group's Overseas Director, an enlisted service
member deployed with an artillery unit in Baghdad. 'We defend the nation now
and we will keep defending it after repeal. We are issuing the statement to
explain that to people.'"
More on Outserve, which was formerly known as Citizens for Repeal, HERE.