The The Arizona Daily Star today published an interesting article on what many consider to be a contentious topic: transgender children. Profiled is 9-year-old Josie Claudine Romero, who was born a boy and, at the age of 5, was diagnosed by a doctor with gender identity disorder. She has lived as a boy for the last three years and, according to the piece, will soon start to take "drugs to prevent her from going through puberty as a boy. As a teen she hopes to begin female hormone therapy. When she's an adult, she expects to have sexual reassignment surgery."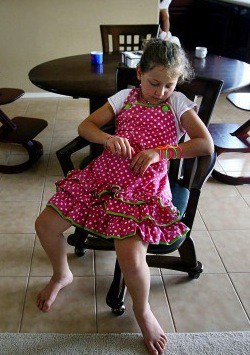 The article discusses the whether transitioning at such a young age is a good idea:
"Should treatment be given to prevent adult transsexualism? Some say yes," says New York psychiatrist Dr. Jack Drescher, a member of the American Psychiatric Association's Work Group on Sexual and Gender Identity Disorders. "They believe prevention is preferable to a lifetime of medical treatment with hormone replacement, not to mention there are also surgeries involved." Transsexual is a term sometimes used to refer people, typically adults, who live as the opposite sex. Transsexuals are generally considered a subset of transgender, an umbrella term that refers to people who do not conform to the "norm" of their gender of birth.

Canadian psychologist Kenneth Zucker is known for discouraging gender-variant children from transitioning. Most gender-variant children do not grow up to identify as the opposite sex, he has argued. Other therapists say preventing certain children with gender identity disorder from transitioning is a recipe for depression and self-harm – supporting them through transition allows them to flourish. That's the theory the Romeros follow.

"Josie will change her mind on many issues in her life. Halfway through grad school she may switch her major," Venessia says. "But her blood type will never change, and she'll always be female. All through Josie's life she has persistently and consistently identified as female. Josie is a girl, has always been a girl, and will grow up to become a woman. That is just part of who she is."
Josie and her parents been featured in several documentaries and talk shows. A clip from a British documentary is AFTER THE JUMP.