Following an appearance on Andy Cohen's Bravo talk show in which he was asked about being a Bear icon, chef Tom Colicchio is now booked for next year's L.A. Gay Pride parade.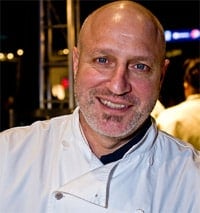 The Dallas Voice reports:
"Short, shaved-headed and stockily built, Colicchio has been a sex object to gay men, especially in the bear community, almost since the show first aired. It's a role the straight chef accepts with humor and grace.
'I was on Andy Cohen's show on Bravo [Watch What Happens, which films in Los Angeles] and said I was mad at the bear community: The gay Pride parade was going on, and no one had asked me to be on a float,' he says. The show was soon flooded with calls, including the editor of Bear's Life magazine. The end result? Colicchio is already booked to ride on a bear float in next year's L.A. Pride parade."
(via eater)