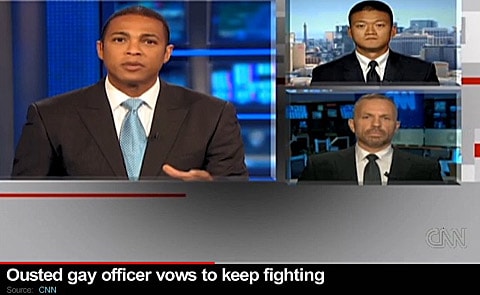 CNN's Don Lemon addressed Dan Choi's discharge in a segment on Sunday night that included Sirius OutQ's Michelangelo Signorile. Here's a bit of the transcript. Full clip, AFTER THE JUMP…
LEMON: But are people- do people feel hopeful, though, Michael, or are they saying- are they more concentrating on what they feel has been the wrong- what Dan has gone through?

SIGNORILE: Well, people would be hopeful if we had some real leadership from the White House, from the administration, from Congress, and certainly, from the Pentagon. Instead, we've really gotten mixed messages. Right now, the Pentagon is serving troops about whether or not they want to serve openly with gays and lesbians. The survey is homophobic, the questions are leading, everybody is wondering why are they asking the troops, what if it comes back- with enormous opposition to doing this. The survey is not secure, anyone can take it. People are worried that we're really not going to see repeal, that the forces against this in the Pentagon and elsewhere are just lining up to keep this policy in place, or to even segregate gay and lesbians troops from other troops.

LEMON: Yeah, that has been a big issue. Dan, I have to ask you this: what's next for you? Are you going to keep fighting? What are you going to do now?

CHOI: Well, since the very beginnings of my service, I realized that there is far greater purpose for every single one of us. Even if we're stripped of all of our wealth or our resources- anything that we had or we took stock in, you can do everything that you can, and when you speak up for someone else, when you encourage and inspire someone else, you always feel a little bit taller, you always grow a little bit more. So, I'm going to continue to speak up for those who cannot. I'm going to continue to pressure those who purport to be our friends. Those- whether they're congressmen or senators or the President himself- if they make a promise, I will hold them to it, and as far as what I do in the next couple of days- you know, I know that there are a lot of people that are suffering, and my oath and my commitment to them- that doesn't end.
Watch, AFTER THE JUMP…