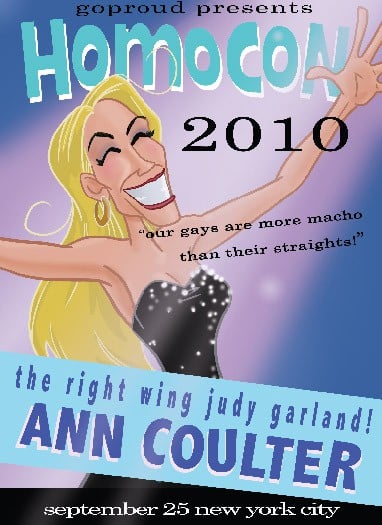 Ann Coulter will headline HomoCon, a September 25th party "celebrating gay conservatives" in NYC.
Writes the group: "Today, GOProud, the only national organization representing gay conservatives and their allies, announced that conservative author Ann Coulter is headlining their first annual Homocon – a party to celebrate gay conservatives. 'The gay left has done their best to take all the fun out of politics, with their endless list of boycotts and protests. Homocon is going to be our annual effort to counter the 'no fun police' on the left,' said Christopher Barron, Chairman of the Board of GOProud. 'I can't think of any conservative more fun to headline our inaugural party then the self-professed 'right-wing Judy Garland' – Ann Coulter'….'I can promise you, Homocon 2010 will be a hell of a lot more fun than chaining yourself to the White House fence,' concluded Barron."
GOProud recently inspired protests after defying a boycott of the Manchester Grand Hyatt, The hotel's owner, Doug Manchester, donated $125,000 to the Proposition 8 campaign.
(via Good As You)