Mark Tewksbury, the openly gay Olympian swimmer who very publicly broke ties with the International Olympic Committee following its 1999 corruption scandal, has been named Canada's chef de mission for the 2012 London Olympics: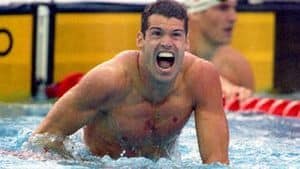 "'I have the amazing honour and privilege of being the chef de mission,' Tewksbury announced on CTV's Canada AM Thursday morning.
'I got the news a little while ago and have been sitting tight on it until today, so finally I can talk.'
The chef de mission is selected by the Canadian Olympic Committee as the official representative and spokesperson of the Canadian Olympic Team…In addition to inspiring and motivating the 2012 Olympic team, Tewksbury says he'll also be working to ensure the team reaches its goals during the next Olympiad…Tewksbury, 42, competed in two Olympics before retiring from competition in 1992. At the 1988 games in Seoul he won a silver medal as part of Canada's relay team. In 1992, Tewksbury beat expectations to snatch Canada's first gold medal of the Barcelona games.
He has since been inducted into the Canadian Olympic Hall of Fame, the Canadian Sports Hall of Fame, and the International Swimming Hall of Fame."