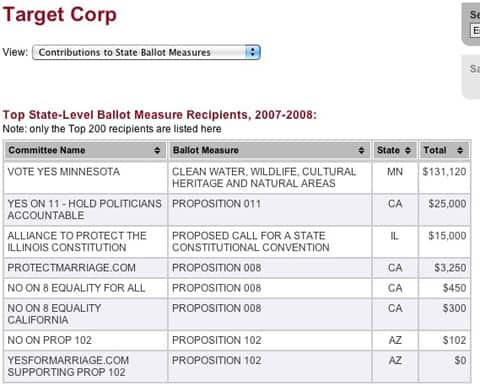 Given Target's recent contributions to the anti-gay PAC MN Forward and the subsequent outrage, a couple of folks have been looking deeper into contributions made by some of its senior executives.
Abe Sauer at The Awl has an extremely thorough laundry list of past contributions made by top Target execs and it's not pretty.
He writes:
Just to be clear, Target's official PAC, and every single one of its executives leaders except one, have given healthily to a PAC that overwhelmingly supports anti-gay candidates, many who do not even represent Minnesota. So it's confusing when Target's CEO speaks of "our commitment to diversity, and more specifically, the GLBT community" while at the same time working to ensure that legislative offices nationwide are stocked with lawmakers who would work hardest to destroy the GLBT community.

The contradictions are at their worst when Target and its executive leadership laud the company's "Domestic Partner Benefits" while at the same time lopsidedly supporting lawmakers like Pawlenty and Burr, who would deny every gay American such domestic partner benefits as adoption and after-life remains decisions. Have Target executives engineered a wide conspiracy to reduce gay equality? No. Is it worth rewarding Target with a better brand image for its support of a few at the cost of all?
And over at the Huffington Post, Jason Linkis points out that Target employees, as revealed by Open Secrets, donated to a variety of political campaigns, as well as Prop 8, heavily favoring the Protect Marriage camp.
He concludes: "My primary concern in this instance, is with the HRC's Corporate Equality Index, which measures 'workplace practices' but eschews any rating based on political contributions save those made 'to a ballot initiative that is anti-LGBT (such as California's Prop. 8 in 2008).' In this instance, it's just one more red flag that the HRC should have noted before awarding Target a perfect 100% rating."