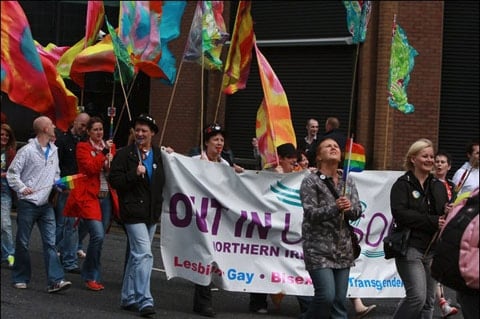 Northern Ireland's northwest region held its first Gay Pride festival and parade over the weekend, in Derry.
"With reports of up to 5,000 people attending the parade, [David McCartney from the Rainbow Project] added: 'I'm no good at judging how many people were there, but the Guildhall Square was packed with people. The reception as the parade came up Ferryquay Street and turned into Shipquay Street towards the Guildhall Square was just phenomenal. We couldn't believe it.  What they have done is extraordinary. I myself winced at the idea of ever having a Pride march in Derry, but this wasn't just a march – it was genuinely a parade. The members of the LGBT community were all understandably nervous in advance, worried that the parade might receive little support, but they needn't have been nervous. So many people came out to support us – cheering everyone on, waving flags, applauding – it was just fantastic.'"
Slideshow here.
Said McCartney of the small number of protesters: "I have to say, apart from the 20 or so miserable people hanging around Duke Street, looking thoroughly unhappy, the day was filled with smiles and colours and happiness, with no negativity from anyone. Some people just can't bear the thought of people enjoying themselves."