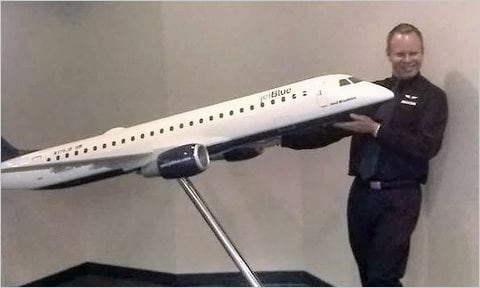 JetBlue flight attendant Steven Slater made a dramatic exit from a flight he was working at Kennedy Airport today shortly after it landed, City Room reports: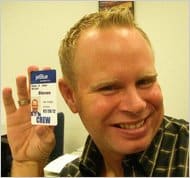 "One passenger got out of his seat to fetch his belongings from the overhead compartment before the crew had given permission. Mr. Slater instructed the man to remain seated. The passenger defied him. Mr. Slater approached and reached the passenger just as he pulled down his luggage, which struck Mr. Slater in the head. Mr. Slater asked for an apology. The passenger instead cursed at him. Mr. Slater got on the plane's public address system and cursed out all aboard. Then he activated the inflatable evacuation slide at service exit R1, launched himself off the plane, an Embraer 190, ran to the employee parking lot and left the airport in a car he had parked there.
In a statement, JetBlue said it was working with the Federal Aviation Administration and the Port Authority of New York and New Jersey to investigate the incident."
CBS: "Aviation sources said Slater got on the plane's public address system and yelled:
'To the passenger who called me a (expletive), (expletive) you. I've been in the business 28 years. I've had it. That's it.'"
Slater, 39, was arrested in Queens and charged with reckless endangerment and criminal mischief. He could get seven years if convicted of the charges.
UPDATE: He grabbed two beers from the galley before he left.