It's probably coming on the second season's fourth episode, and the actors are trying to prepare you for it.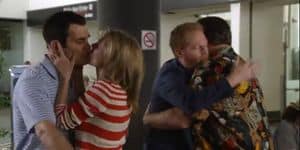 E!'s Marc Malkin and Brett Malec spoke with them at an Emmy kick-off party this week.
Warned Jesse Tyler Ferguson: "Don't expect a Gone With the Wind type of thing happening, I know the fans would like that. We're doing an episode about Mitchell's fear of PDA, so it's not the kiss episode per se, but yeah. It's going to be a really poignant, beautiful thing but less of an ordeal than people think it is."
Added Eric Stonestreet: "It's a sweet moment for our show, not just a sweet moment for Mitch and Cam." Read more: