The Ke$ha-Loving, Command-Defying Army Auteur [ny mag]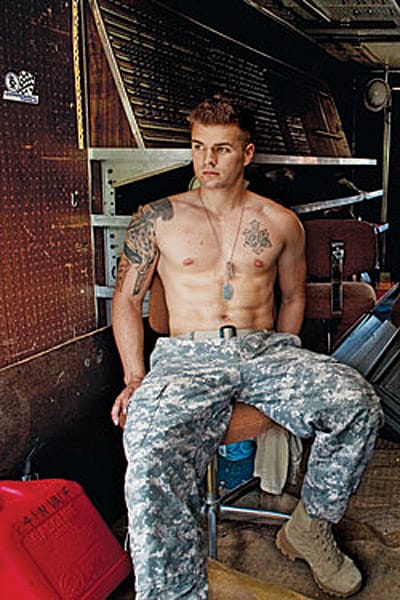 You may recall back in May I posted a lipdub video created by Army Specialist Codey Wilson, set to Ke$ha's "Blah Blah Blah" which riffed on the idea of gays in the military. The video, created in Iraq, quickly went viral, and while the original has been removed, copies exist, one of which I've posted after the jump.
New York magazine has posted a big profile on Wilson and his unit, the meaning behind the video, and why they put it together (that's Wilson in the humvee loincloth still below). 
Anyway, Wilson talks to NY Mag about gays in the military and what a repeal of "Don't Ask, Don't" tell might mean:
Nobody in Wilson's "If the Army Goes Gay" video is actually gay, even though that's the part that a lot of people got stuck on. He says he'd be shocked (shocked, not upset, he is careful to say) if he found out there were any gay guys in his unit. "They're all from Virginia, where we have a lot of straight arrows."

Wilson says there are homophobes on the base, "backcountry rednecks" whom Wilson makes fun of, but mostly makes fun with, because that is how you get across the sand. There were guys in the company who thought Wilson was disrespecting the unit or speaking out in favor of the repeal. "I was also getting gay jokes for a while, but I have kind of a reputation at home—I've had like 50 girlfriends—so let people make jokes."

The thing they seem most concerned about is that the repeal will usher in a slew of new rules about fraternization. "If everyone knows you're gay and you touch someone, even as a joke, you'll be going down for it, the same way that if a guy held a girl's hand on the—Stop it, man! My roommate's touching me right now."

These kids don't have politics—or not the kind you'd recognize back home. They made the video, says Wilson, because they want to be part of the conversation. They watch Lady Gaga videos from their warm blue laptops thousands of miles away, they download current music and post items on Facebook about caches of puppies they find inside of old bunkers. More than anything it says about gays in the military, the message is, Hey, we're still here.

"The most special thing about the video I made," says Wilson, "is that for a few days, we kind of became members of society. It was like we actually mattered."
Check out the video, which I've reposted, AFTER THE JUMP…