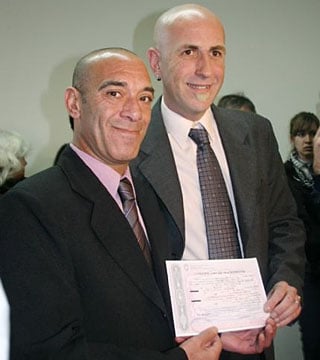 A man who was part of the first gay couple to marry in the city of Mar del Plata in Argentina died suddenly. Sadly, it happened on his wedding day.
Bloomberg reports:
"One of the first gay men in Argentina to be wed under a new law permitting same-sex marriages died after falling ill at his wedding party, newspaper Clarin reported."
"Nestor Berchot, 45, died at about 5 a.m. local time after fainting during the celebration because of high blood pressure, the Buenos Aires-based newspaper said, citing Karina Freire, head of a human rights group."
"Berchot and Gustavo Garcia, both hairdressers, were the first gay couple married in the coastal city of Mar del Plata after the country's Congress approved same-sex marriage last month, Clarin said."
If there's any good news in this story, it's that at least Berchot was able to live long enough to finally marry his long-time partner.