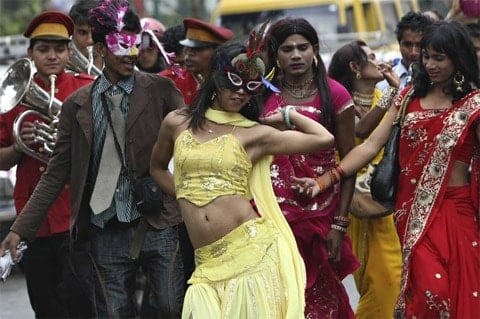 Nepal's Gay Pride celebration went international this year, with participation from several foreign entities. A parade took place yesterday.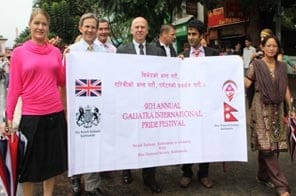 The Times of India reports:
Dozens of young men and women, dressed in costumes, masks and animal ensembles, marched in a gay pride reminding one of the Mardi Gras celebrations in Brazil. Organised under the aegis of Blue Diamond Society, Nepal's pioneering gay rights organisation, the march, now in its ninth year, has grown from strength to strength since its inception when the participants hid their faces behind masks for fear of being identified.

"From this year, our march has become internationalised," said Sunil Babu Pant, BDS founder and Nepal's only openly gay MP who successfully lobbied Supreme Court to recognise same-sex marriages and is now hosting such events for foreigners in Nepal with his gay travel agency, Pink Mountains, promising elaborate honeymoon packages. "We have the support of the Irish parliament, the American ambassador to Nepal, Scott DeLisi, has sent a message of solidarity and the march saw the participation of the British ambassador, John Tucknott. Thousands of gays die worldwide every year, some of natural causes, some due to AIDS/HIV and many due to violence. In Nepal, there were 10 known deaths last year. But no one remembers them. Our gay parade ends with a candle-light vigil in memory of those who died last year. This is about equality for all."
Tucknott, who can be seen in the inset photo above marching with the British contingent, released a statement about his participation: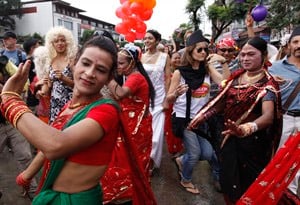 "Nepal Pride is not just about LGBT people standing up for their rights. It's about all of us – straight or gay – supporting them in their quest for equality,"British Ambassador John Tucknott said. "It is about saying no to intolerance, no to prejudice, no to discrimination, and no to violence. It is about saying yes to embracing diversity. I wish all the participants in Nepal Pride 2010 a safe and enjoyable day."
"Pant's gay rights group organized the parade to campaign for greater rights for sexual minorities in Nepal. 'Our message is ending all forms of discrimination,' Pant told reporters. He said the parade participants were from India, Japan, Britain, Germany, Denmark and Norway, and a police officer at the scene estimated the crowd was around 2,000. Smaller such parades have been held in Nepal in the past."