Several of the "Real Housewives" of New Jersey will be trying to remember their lines at the beginning of September as they join the cast of My Big Gay Italian Wedding off-Broadway to benefit marriage equality. Broadway.com reports: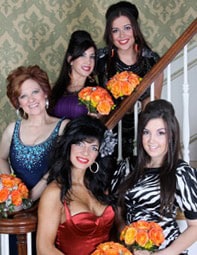 "Teresa Giudice, Ashley Holmes, Jacqueline Laurita, Caroline Manzo and Lauren Manzo will join the cast of Anthony Wilkinson's comedy at St. Luke's Theatre for four performances only, playing September 1 through September 4. A portion of the proceeds from each performance will benefit Marriage Equailty New York, an organization dedicated to raising public awareness for equal marital rights.
Giudice, Holmes, Laurita, Caroline Manzo and Lauren Manzo join the cast as The Wedding Officiator, Connie Scuccifuffio, Toniann Naso, Angela Pinnunziato and Maria Pinnunziato, respectively. My Big Gay Italian Wedding follows two handsome grooms, one overbearing Italian mother, a jealous ex-boyfriend, the wedding planner from Hell and an assortment of kooky family and friends as they gather together for a wedding from hell that's a hell of a lot of fun."
The play is produced by former Housewife Dina Manzo, which means crazy Danielle will be nowhere to be found.