The NYT wades right in to the Bradley Manning Wikleaks story with a discussion of his desperate, lonely past, and his sexuality…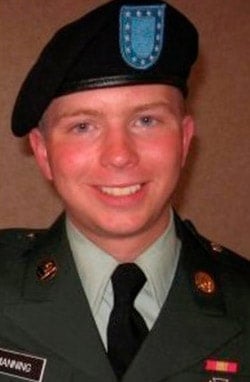 "But it was around two years ago, when Pfc. Bradley Manning came here to visit a man he had fallen in love with, that he finally seemed to have found a place where he fit in, part of a social circle that included politically motivated computer hackers and his boyfriend, a self-described drag queen. So when his military career seemed headed nowhere good, Private Manning, 22, turned increasingly to those friends for moral support.
And now some of those friends say they wonder whether his desperation for acceptance — or delusions of grandeur — may have led him to disclose the largest trove of government secrets since the Pentagon Papers."
His childhood in Haverfordwest, Wales:
"Former students at his school there, Tasker Milward, remembered Private Manning being teased for all sort of reasons. His American accent. His love of Dr Pepper. The amount of time he spent huddled before a computer.
And then, students began to suspect he was gay.
Sometimes, former classmates said, he reacted to the teasing by idly boasting about stealing other students' girlfriends. At other times, he openly flirted with boys. Often, with only the slightest provocation, he would launch into fits of rage.
'It was probably the worst experience anybody could go through,' said Rowan John, a former classmate who was openly gay in high school. 'Being different like me, or Bradley, in the middle of nowhere is like going back in time to the Dark Ages.'
But life ahead did not immediately brighten for Private Manning. After his troubled high school years, his mother sent him back to Oklahoma to live with his father and his older sister."
"Before being deployed to Iraq, Private Manning met Tyler Watkins, who described himself on his blog as a classical musician, singer and drag queen. A friend said the two had little in common, but Private Manning fell head over heels. Mr. Watkins, who did not respond to interview requests for this article, was a student at Brandeis University. On trips to visit him here in Cambridge, Private Manning got to know many in Mr. Watkins' wide network of friends, including some who were part of this university town's tight-knit hacker community.
Friends said Private Manning found the atmosphere here to be everything the Army was not: openly accepting of his geeky side, his liberal political opinions, his relationship with Mr. Watkins and his ambition to do something that would get attention…And as he faces the possibility of a lifetime in prison, some of Private Manning's remarks now seem somewhat prophetic.
'I wouldn't mind going to prison for the rest of my life, or being executed so much,' he wrote, 'if it wasn't for the possibility of having pictures of me plastered all over the world press.'"
What will the Right make of this? How will it affect the DADT debate, if at all? What do you think?