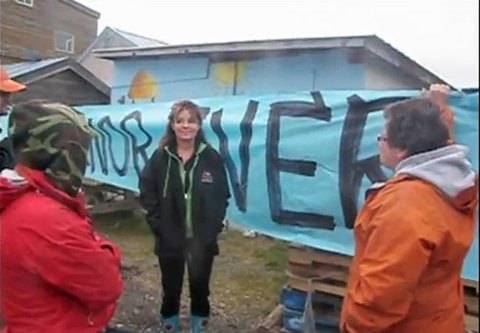 Check out the major eye roll Sarah Palin gives her posse after this Homer, Alaska woman, who confronted Palin with a "Worst Governor Ever" banner, tells her she's a teacher.
NY Mag notes the gesture: "as if to say, 'Of course, only a teacher would be such a liberal nut.'"
Palin was apparently in Homer fishing for her upcoming TLC reality show.
The HuffPost reports: "Kathleen Gustafson is a teacher married to a local commercial fisherman. She felt like Sarah Palin had let the state down by becoming a dollar-chasing celebrity and ignoring the oath of office she'd sworn on a Bible.Kathleen was motivated by the fact Palin was using the very place where her family makes a living to fortify the Palin personality cult — pretending to do the very thing they worked so hard to sustain. Initially, Kathleen just wanted to waste a little of the camera crew's time, since Palin wasted so much of her time purporting to represent Alaska's interests.She didn't imagine Palin would be so easy to draw out."
Watch, AFTER THE JUMP…
Palin's posse reportedly tore down the sign the moment the property owner walked away.