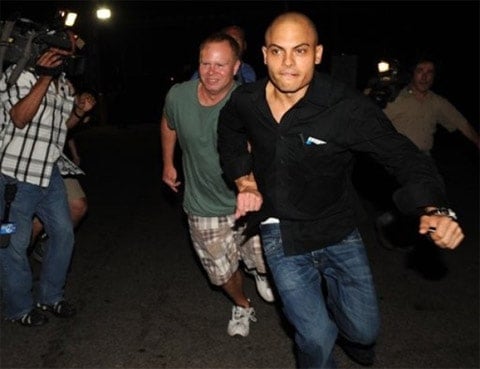 Steven Slater wants to return to the skies: "Steven Slater's attorney, Howard Turman, said at a news conference Thursday outside his client's home that flying 'is in his blood.'Turman says the 38-year-old airline veteran is a likable man who enjoys people and did his job properly.Slater briefly thanked all the people who had sent him support and love since his Monday meltdown aboard a JetBlue Airways Corp. flight."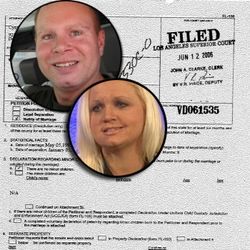 And Slater is married to a woman he married as a teen.
A passenger on Steven Slater's JetBlue fight is saying he instigated the conflict:
"Ms. Briskin said the seemingly normal conversation turned unexpectedly nasty when Mr. Slater blurted out an expletive to the passenger.'I didn't think she was rude in the least,' said Ms. Briskin, who was visiting the city for the first time. 'It really blew my mind. It was so inappropriate.'"
The Association of Flight Attendants is standing behind Slater:
"'We want to advance the profession no matter what. Sometimes in order to do that we must help people who may not necessarily be members.'According to the rep, the AFA is prepared to provide Steven with legal defense if he wants it — which might be helpful because he is currently charged with two counts of reckless endangerment, two counts of criminal mischief and one count of criminal trespass."
The NY Post writes about Slater's hatred of oversize carry-on luggage, and those who carry it on:
"The JetBlue flight attendant who flipped out after his plane landed at JFK and then escaped using the emergency chute is a self-professed 'bag Nazi' who was furious over a passenger's oversized luggage, authorities said yesterday.'I hate to be a bag Nazi when I work a flight, but I feel if I am not, then I am letting down all those who cooperate and try to help out as well,' fussy flight attendant Steven Slater wrote several months ago on Airliners.net, an aviation Web site on which he uses the handle 'skyliner747.'"
The NYT notes that Slater had been planning his escape in his head for a long time:
"For 20 years, I thought about it. But you never think you're going to do it."
Oriol Gutierrez looks at the media's disclosure of Slater's HIV status.
Heather Robinson was an eyewitness to the Slater incident.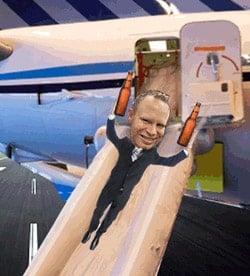 The company that manufactures the slides that Slater escaped on was very happy with his exit:
"TMZ has learned the people at Goodrich — who manufacture the inflatable emergency evacuation slide for the JetBlue Embraer ERJ-190 plane — tell us they're 'pleased' with the way the slide performed during Slater's infamous moment. A rep for the company tells us the slide 'functioned properly … just like it was designed to.'As for Slater's technique — Goodrich says, 'From what we can tell, he did things exactly the way he was supposed to … with the exception of throwing his luggage down the slide.'"
The Hollywood Reporter wonders how far Slater can stretch his 15 minutes of fame:
"Michael Priem, CEO of USDM.net — an agency that works with U.S. and international airlines, Hilton and others — said he has brought up the Slater story in meetings and expects travel and tourism marketing firms to react to it, whether by referencing the case directly or drawing indirect lessons from it. He can see any service company benefitting from a campaign that uses Slater as a spokesman.'He could show how painful it is to be in the wait line for a cell phone carrier or sit at a service center that frustrates us,' Priem said. Joseph Jaffe, a consulting on new marketing, had a Hollywood comparison for the flight attendant."Steve Slater is the modern-day equivalent of Charles Bronson in 'Death Wish' — except, of course, there's no artillery, bloodshed or permanent damage in this particular example of brand vigilantism," he said. 'I'd recommend JetBlue gets behind him. They have the kind of brand personality and authentic self-assuredness to use this as a perfect opportunity to demonstrate purpose and conviction. And if not, then I'd recommend one of their competitors snapped him up.'Angela Farrell, an accountant at marketing firm MSCO, reminded that 'American Idol' seems to be in need of a new controversial host/hero, and Scott Cromer, partner and managing director of creative agency Mutt Industries said, 'The whole thing feels like a John Hughes film.'Said Jim Joseph, president of Lippe Taylor: 'I think he will end up being a spokesperson of some sort. He's quickly becoming the mascot for the disgruntled employee.'"
And finally, The Ballad of Steven Slater, AFTER THE JUMP…