Target CEO Gregg Steinhafel has apologized to employees for Target's donation to anti-gay PAC MN Forward, which funds ads for anti-gay gubernatorial candidate Tom Emmer, the AP reports: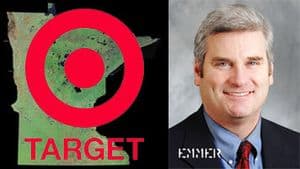 "Target CEO Gregg Steinhafel wrote employees to say the discount retailer was "genuinely sorry" over the way a $150,000 contribution to MN Forward donation played out. Steinhafel said Target would set up a review process for future political donations.
MN Forward is running TV ads supporting Republican Tom Emmer, an outspoken conservative opposed to same-sex marriage and other gay-rights initiatives that have come before Minnesota's Legislature."
Wrote Steinhafel: "While I firmly believe that a business climate conducive to growth is critical to our future, I realize our decision affected many of you in a way I did not anticipate, and for that I am genuinely sorry. The diversity of our team is an important aspect of our unique culture and our success as a company, and we did not mean to disappoint you, our team or our valued guests."
The Human Rights Campaign recently took out a full page ad in the Minnesota Star-Tribune calling on Target to "make it right" for their donations to the anti-gay PAC.