This week, the Human Rights Campaign announced that talks had broken down between it and Target regarding the corporation's major donation to MN Forward, a conservative political PAC which funded campaign ads for anti-gay gubernatorial candidate Tom Emmer.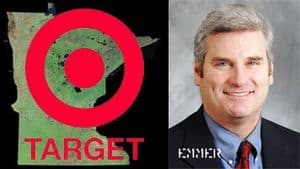 In response, HRC said it would inject $150,00 into the campaigns of gubernatorial candidate Mark Dayton, as well as fund pro-equality legislative candidates and pro-LGBT causes.
The Target donation to MN Forward has inspired a nationwide boycott of Target stores by progressive group MoveOn. However, HRC is refusing to call for a boycott, and, via its iPhone app, is actually still suggesting that LGBT people shop there.
Michelangelo Signorile talked to HRC's Fred Sainz yesterday about the contradiction:
Signorile:…The [Corporate] Equality Index is a position on the boycott, because the reason you give the equality index is to tell people where to shop…

Sainz: No, that's not true.

Signorile:…and what companies they should support…

Sainz: No, no, that's not true. The Corporate Equality Index is a measure of the workplace practices of companies. It was started as a guide of what the best employers are for LGBT people…It is not meant to be a statement on a company's wholistic behavior. It is rather a measurement of the workplace practices of a company. That's really–-

Signorile: HRC does tell people to shop at equality-friendly businesses, even has an app that is devoted to that.

Sainz: That is true.

Signorile: Okay, so the equality-friendly businesses are those that score high on the Corporate Equality Index.

Sainz: That is true…

Signorile: So right now, at this moment, Target still has a 100, and that means that's a good place to shop.
Sainz says it's hard to quickly change the CEI and that the group doesn't want to make a "knee-jerk" response to Target's actions. He says HRC is trying to "grapple" with the changes regarding corporate donations to candidates following the Supreme Court ruling. Sainz also says that HRC won't take Target's money if it wants to sponsor any tables at its dinners around the country.
There's much more to the conversation and you can listen to it HERE.
Maybe an update to the iPhone app that would inform people about the Target situation? Just a thought.
In related news, institutional investors in Target are demanding the corporation revamp its donation process:
Imprudent donations can potentially have a major negative impact on company reputations and business if they don't carefully and fully assess a candidate's positions," said Tim Smith, a senior vice president at Walden Asset Management, one of three asset management firms that this week filed a resolution asking the retail giant to overhaul its campaign donation policies. He cautioned that funding ballot initiatives, as many corporations have done, "can similarly backfire."

The three management firms sponsoring the resolution — Calvert Asset Management, Trillium Asset Management and Walden — together hold $57.5 million of Target stock. Other institutional investors, including the giant New York state pension fund and union investment managers, are considering co-signing the resolution, which calls on Target's independent directors to review the criteria and risks in making donations to organizations active in political campaigns.