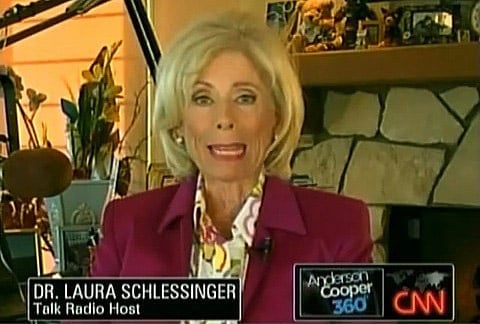 The Hollywood Reporter asks Dr. Laura if "she's been out in public" following her announcement she's ending her radio show following controversy over her use of the N-word on the air. She has been out to dinner, in fact, with her Black and gay friends.
"I went out to dinner with three friends after Larry King. One of my friends who is gay is sitting there with another friend who is black, and he looks up and says, 'I wonder what the media would do with this? You're with a black guy and a gay guy.' We laughed, because we all understand what this is really about — censoring a point of view."
The Hollywood Reporter also asked Schlessinger about her remarks years back calling homosexuality a "biological error", and her position on same-sex marriage (she's against it).
THR: The comment about homosexuality being a "biological error"?

Schlessinger: I never called anybody a biological error. What I said, very clearly — and to GLAAD's credit they put it on their website — I said, gays and lesbians have as much compassion, intelligence, ability, warmth as anybody else — comma — the inability to sexually match up male and female is a biological error. That's it. I didn't say people were a biological error. I said male parts and female parts make babies. I was talking biologically. The interesting thing is that gay groups have made the point that it's not a moral issue, it's a biological issue. I was really supporting their point of view.

THR: Can you sum up your position on same-sex marriage?

Schlessinger: I'm pretty traditional. I also believe men should pay for dates. That a man and a man, or a woman and a woman, can have a loving, healthy relationship is positive for society and for them individually. We're human creatures that need bonding. I just feel marriage is a sacred situation between a man and a woman. But I'm all for domestic partnerships. I had a gay caller the other day. The woman was complaining that the woman she was living with was spending money without telling her. I asked, "Do you have a domestic partnership?" She said no. And I said, "She doesn't owe it to you to tell her where her money is going. Until you two have a committed, domestic partnership, hey, you're just two single people." So I deal with these issues the exact same way with straights or gays.
John Roberts talked to Dr. Laura on AC360 last night, as well as "Jade", the caller to her radio show who confronted her about using the N-word.
 Watch, AFTER THE JUMP…