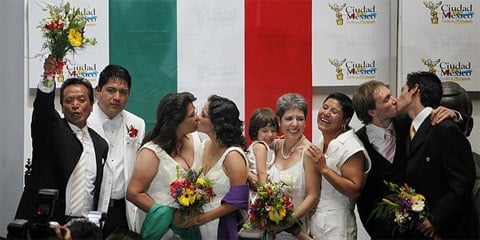 The Latin American Herald Tribune reports that Mexico City has seen the marriage of more than 400 same-sex couples since gay nuptials were legalized there in March:
"A total of 398 marriages have been registered, of which 53 percent were between men and 47 percent between women. In these six months, 41 foreigners have joined the Mexicans – mostly Europeans, followed by South Americans, citizens of other North American countries, and Central Americans. In the same time frame, there have been four weddings for couples between 71 and 90 years of age. Most of those who got married are between 30 and 40, followed by those between 21 and 30 years old. March was the month with the greatest number of matrimonies with 94, followed by April and June with 64 marriages each, while May was third with 60."
During that time, the Mexican Supreme Court has ruled the law constitutional and also ruled that all Mexican states must recognize the marriages.
The Mayor of Mexico City sued the Bishop of Guadalajara for defamation after the Catholic leader claimed the Supreme Court justices were bribed for their pro-equality position.
Another Catholic leader, Cardinal Norberto Rivera, slammed the Court's position, calling gay marriage "evil" and "inherently immoral".
The newly crowned Mexican Miss Universe, Jimena Navarrete, has come out in support of marriage equality, saying, "I am absolutely against discrimination and, well, what can I say. I have many friends who are homosexual and I adore them. And they are equal folk: There is no reason we should want to set them aside, there is no reason why we shouldn't let them enjoy what they want to enjoy with their partner."