Beauty and Brains – 2 min trailer from Catherine Donaldson on Vimeo.
Write the filmmakers: "To be third-gender in Nepal means a choice of three careers; giving blessing at weddings, begging or prostitution. They are excluded from family and school, are prey to security forces, blackmail and sexual abuse. However, as Nepal attempts to write a new constitution there is a chance of change. In order to be heard above the clamour and civil unrest, the third-genders with Sunil Pant and the Blue Diamond Society embarked on the Beauty and Brains Talent Contest. This is the story of a community gaining the confidence to confront prejudice and tell society they are natural human beings."
Kathmandu police detained 70 gay rights activists including openly gay MP Sunil Pant yesterday, during a demonstration in Nepal's capital over government identification for transgender people, ABC reports: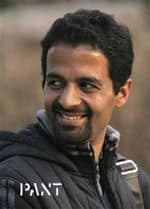 "Nepali men and women who identify as transgender are seeking citizenship certificates with their gender marked as 'third sex' instead of male or female. Sunil Babu Pant, lawmaker and founder of the Blue Diamond Society, a gay rights group, says more than 70 people were detained near the prime minister's office and parliament. 'We are running out of patience and are demanding our rights,' Pant said from a detention centre. "Without the citizenship papers, the sexual minorities are unable to get a job, enrol in schools or colleges, seek treatment in hospitals and travel," he said. 'They cannot even inherit parental property.' … Kathmandu police chief Ramesh Kharel said the activists were detained for 'violating the norms' by gathering at a place where demonstrations were not allowed."
In related news, one initiative that Pant has also spearheaded to raise awareness about the plight of transgender people in the country is the Beauty and Brains Talent contest.
Watch a trailer for a documentary on it, AFTER THE JUMP…