Yesterday, following the DADT, Joe Jervis received a comment on his blog that read "All faggots must die". Joe began tracing the IP address of the comment, (its author identified himself as Jimmy) and discovered that it came from the Atlanta office of Senator Saxby Chambliss.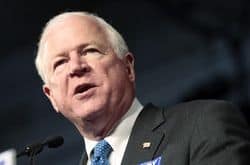 Chambliss' office is investigating, the Atlanta Journal Constitution writes:
"We have seen the allegations and are moving quickly to understand the facts. This office has not and will not tolerate any activity of the sort alleged," Chambliss spokeswoman Bronwyn Lance Chester said. "Once we have ascertained whether these claims are true, we will take the appropriate steps."
The comment was posted on Joe.My.God., a blog dedicated to gay and lesbian issues, shortly after a Democratic bid to repeal "don't ask, don't tell" faltered in the U.S. Senate.