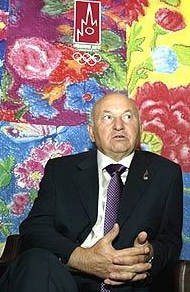 Russian President Dmitri A. Medvedev initiated a huge political shake-up by firing Moscow's malignantly anti-gay mayor, Yuri Luzhkov yesterday.
The sackings comes after Luzhkov, who has been Moscow's mayor for two decades, became increasingly vocal in his criticism of Medvedev and, attempted to create a rift between the President and Vladimir Putin, the former President and current Prime Minister whom many say still controls the country.
Luzhkov, whose family has deeply entrenched business interests in Moscow and whose position was the equivalent of a regional governor, did not release a statement, but President Medvedev did: "It is difficult to imagine a situation under which a governor and a president of Russia, as the chief executive, can continue to work together when the president has lost confidence in the leader of a region."
Deputy Mayor Vladimir Resin will fill in as acting mayor. Let's hope the city's next permanent leader doesn't think, as Luzhkov does, that gay people are "satanic."