The Obama administration trumpeted its human rights talks with China earlier this year, but the efforts fell flat and neither side walked away with a sense of accomplishment. Some say the government gave in to China, fearing loss of economic relations.
While many of those critiques came from the right, the Administration's commitment to the cause can be called into question by Secretary Clinton's 2009 remarks on the importance of economics in the human rights game.
"Our pressing on those issues can't interfere on the global economic crisis, the global climate change crisis and the security crisis," she said after being asked about China's abuses in Tibet.
Though the United States, and Secretary Clinton specifically, insist they want to spread democracy and equality to the four corners of the world, and that human rights are of tantamount importance, the dollars and cents of it all often trumps real action. Hopefully Clinton will surprise the cynics and come out against this clearly homophobic raid.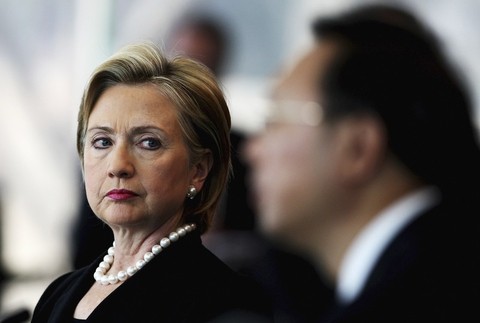 At least 80 men were detained at a popular Beijing gay hang out over the weekend in what officials called a "security sweep" ahead of the communist government's big National Day celebration this Friday.
Certainly gays and lesbians are outraged over the raid, which US-based AID activist Wan Yanhai described as "extremely rude, violent and lacking in legal basis." One wonders, however, whether Secretary of State Hillary Clinton, seen above with Chinese foreign minister Yang Jiechi, will have anything to say on the matter.
Clinton received progressive kudos earlier this year, when, to commemorate Gay Pride Month, she declared, "Just as I was very proud to say the obvious more than 15 years ago in Beijing that human rights are women's rights and women's rights are human rights, well, let me say today that human rights are gay rights and gay rights are human rights, once and for all."
As much as Secretary Clinton may believe gay rights are indeed human rights, she and her peers in the Obama administration don't appear to be making much headway when it comes to human rights in China, our best frenemy.