In a clear response to the rift between the Atlanta police and the LGBT community, the city's police department has created a nine-person advisory board. The diversely selected committee, which consists partly of a business owner, a transgender activist, and a minister, is intended to open a dialogue between the two groups.
WABE in Atlanta reports on the committee: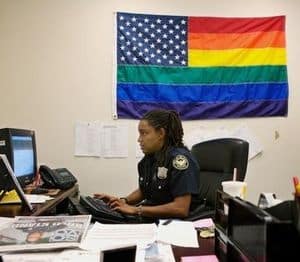 No matter how strong the nine members may be, the new LGBT advisory board is just that advisory. It has no policy-making or fiduciary power. And even before the board's first meeting, at least one person is questioning the transparency of the selection process.

"I simply just want to know, as do a lot of people within the LGBT community, how was the selection process conducted?" asked Charlie Stadtlander, a high school teacher and who unsuccessfully ran for the school board. He says several people nominated him for the LGBT advisory panel. He wasn't selected. And while he agrees the nine appointees are well-qualified, he says he never got the sense APD had formal standards for choosing the board.

"We all are questioning what the interview process was, how was the selection process conducted, and what criteria was actually used to select the panel?"

LGBT liaison Powell admits the selection process was informal, but stands behind her decisions. She says the nine members will allow APD to reach communities that, in the past, may not have had a line of communication with the department. And while it will take time, dialogue, and some say an apology from APD for past wrongs, most agree the board has the potential to begin rebuilding those burnt bridges.
You may recall that hundreds of people protested a police raid at the Atlanta Eagle in 2009. Charges against those bar employees arrested that night were later dropped.