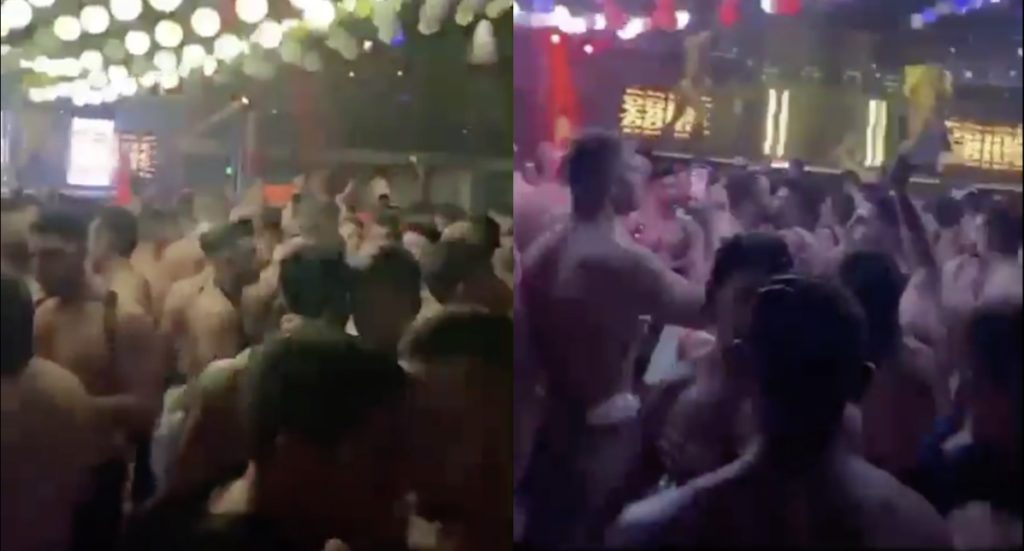 Social media lit up with outrage over the weekend after a man died from a reported drug overdose and videos circulated of crowded gay nightclubs for Atlanta Pride weekend amid the ongoing COVID pandemic. The official Atlanta Pride organization distanced itself from the privately held circuit parties, making it clear that all their events were virtual.
Atlanta police said a man lost consciousness at BJ Roosters nightclub early Sunday morning and was pronounced dead 40 minutes later after EMTs attempted to revive him.
"The victim's partner said he had taken ecstasy pills at the club during an event," 11Alive reported. "Police said they found no signs of foul play or trauma during their investigation. Further details are still limited as the investigation continues. A spokesperson said that what they know at this time is preliminary and could change as the investigation progresses and new information comes to light."
Towleroad received an anonymous eyewitness account from the event, from a man who said he was standing near the partier who lost consciousness. The witness said the victim was a 40-50 year old black man, who remained unresponsive as onlookers did CPR for more than 10 minutes until paramedics arrived. The witness said the XION party, thrown by Keith Allen YOUNG'S GA BOY EVENTS, was oversold, packed, and not air conditioned.
Said the witness: "I'm not sure of the outcome, it didn't look good. Party was at XION, Promotor was GA Boy Events. The group was sitting next to me on a set of couches, one of them crashed quickly. The venue was packed, to overcapacity at times. There were no protocols in place, clearly no EMTs on site, and staff there seemed unprepared to handle anything of the sort. It was a minimum of 30 minutes before an ambulance arrived, and Im being generous. It was tragic. I've been to parties all over the world, I have never been to one without EMTs In my opinion this could have been avoided."
A video circulating on Twitter with nearly 1 million views shows a similar party that happened the previous night.
Andy Herren, the first gay man to win Big Brother in Season 15 of the CBS reality show, posted video from the Friday night party, tweeting: "Taken last night at Atlanta Pride. And publicly posted to Instagram. In the middle of a pandemic. People can be so shitty and selfish. Please don't be like these people. This is appallingly gross."
Tyler Oakley shared Herren's video, adding: "atlanta pride last night… what are y'all UP TO… i get that people miss how carefree we used to be able to be… i do too!! but the pandemic isn't over just because you're over it"
RuPaul's Drag Race alum Detox, who was working another party at District Atlanta on Saturday night, defended her participation in a Twitter thread: