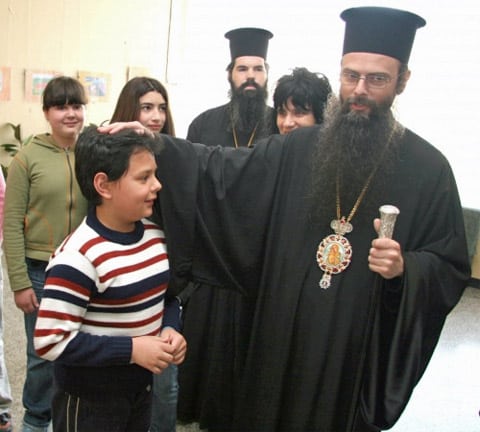 Plovdiv Bishop Nikolay of Bulgaria has handed out awards to the Mayor of the city of Pazarzhik Todor Popov and the Pazardzhik Prosecutor Stefan Yanev for "standing up for Christian values, defending Orthodox Christian morality and spirituality, the sanctity of marriage, family, and statehood," the Sofia News Agency reports.
Meaning, they have been leaders in stomping down the gays:
"About a month ago, the local authorities in Pazardzhik stirred a controversy after coming up with an order banning the displays of one's sexuality in public, a measure which was directed at homosexuals. The ordinance came about a month after Bulgaria's third ever gay pride parade in Sofia that rallied several hundred people in June. When a gay rights organization appealed the ordinance before the local Prosecutor's Office, Prosecutor Yanev upheld the Pazardzhik municipal ordinance in an official decision filled with extensive deliberations on human sexuality, 'natural law,' and 'propriety', and essentially determining that public display of one's sexual orientation constitutes 'debauchery.' Yanev's decision was subsequently overruled by the Supreme Administrative Prosecutor's Office in Sofia."
"There is something called public morality. The society is not obliged to watch how somebody is sticking into its eyes their own travesty, and to watch how somebody is destroying the souls of our children, and pours poison into the very idea about the sanctity of the bond between a man and a woman that forms a family. The task of the Orthodox Church assigned by our God Jesus Christ himself, is to protect the moral and ethical principles of scripture. The job of the church is to condemn the devil when he tries to destroy this holy order…The Holy Synod is resisting decisively any public and shameful demonstration of sodomic sin that destroyes the traditional foundations and values of the Bulgarian people and brings enticement into the views of our children and youth."