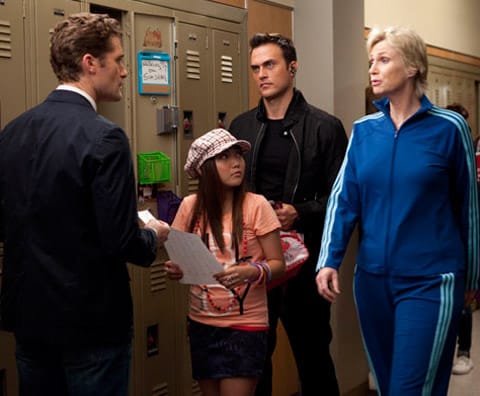 Cheyenne Jackson makes his debut in a recurring role on Glee tonight.
Itay Hod interviews him for The Daily Beast, revealing that Jackson was once considered for the part of Mr. Shue:
"He originally tried out for the part of Mr. Schuester, one of the leads, but lost it to Morrison. Then, halfway through the season, he got a rare second chance when co-creator Ryan Murphy offered him the part of crazy choreographer Dakota Stanley in an upcoming episode. The character only had a few lines, but Jackson wasn't about to complain. By then, Glee had become a bona-fide TV phenomenon. Excited, Jackson flew to L.A. for the shoot. But just as he was about to do his scene, he fell ill. After seeing his temperature rise to 103, the doctor on set determined Jackson had the flu and ordered him back to his hotel. The role had to be recast. 'At that point I was feeling so sorry for myself. In fact, when the episode aired I couldn't even watch it. It was too painful.'"
Jackson also talks about being outed by the NYT:
The reporter asked him as a matter of fact, "You're gay, right?" and Jackson simply replied "Yeah." The day after the story appeared, his phone was ringing off the hook. His manager, agent, and close friends begged him to retract his statement. But Jackson, who had been out to his family since he was 19, decided to let the chips fall where they may. Looking back, he says, it was the right thing to do, though it did come at a price. "Do I regret anything? No. Did I miss some parts because of it? Probably."
You may recall that Jackson lashed out at Ramin Setoodeh's Newsweek article on just that topic: "I was upset. I thought it was unfair. I called him an asshole." Hod reveals that Jackson ran into Setoodeh shortly after that, at Barney's:
 "I looked at him, and he looked at me, and I'm sure he said to himself, 'Oh man, am I going to be confronted?'…I said, 'Listen, a dialogue has been started. I know you didn't mean to cause harm.'"