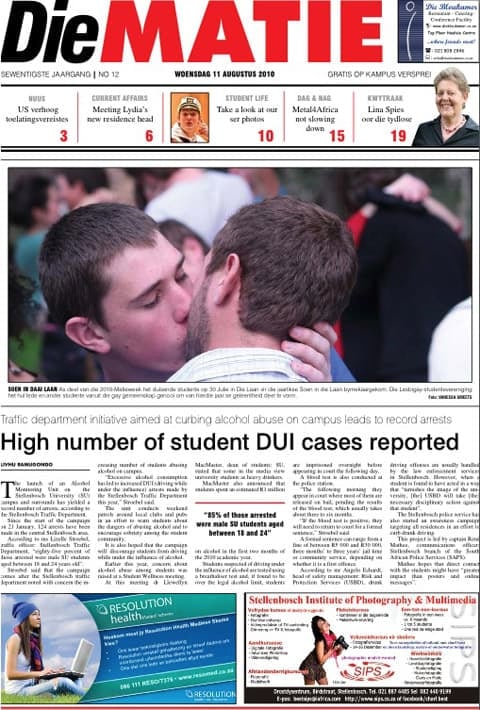 Last month I posted about a photograph of a gay couple's kiss, which made news across South Africa (and internationally) after it was published on the front page of Stellenbosch University's student paper. The photo was taken at the Soen in die Laan (Kiss in the Avenue), a traditionally heterosexual event which the gay and lesbian students had decided to join to make a statement about gay rights.
Now this awful news:
In a single photograph Bjorn Czepan and Dean Vorster became unwitting symbols for tolerance and gay rights at the predominantly Afrikaner, rugby-playing Stellenbosch University.

Just a month later, there is a tragic postscript. Czepan is dead and Vorster is critically ill in hospital after a car crash.

The students were involved in an accident in Woodstock, a suburb of Cape Town, last week, the Cape Times reported . Czepan, from Germany, was killed and Vorster is now on a ventilator at the Netcare Christiaan Barnard Memorial Hospital.

The hospital said a third student, Brian Kline, was admitted late last Thursday night after the crash. Vorster and Kline were critical but stable.
Said South African gay rights activist Marlow Valentine: "It is a sad day when anyone dies young with their life ahead of them. It is ironic that they made this statement just before the accident. You wonder if it was divine providence. Stellenbosch is a very conservative town and doesn't like anything out of the ordinary. From a fundamentalist point of view people would say this was punishment. But my view of God is not one of punity.  I hope people will remember them as a couple who had the guts to stand up and challenge the status quo; that's a positive, not a negative. If articles like that stimulate positive conversations, then the action and the picture were not in vain."