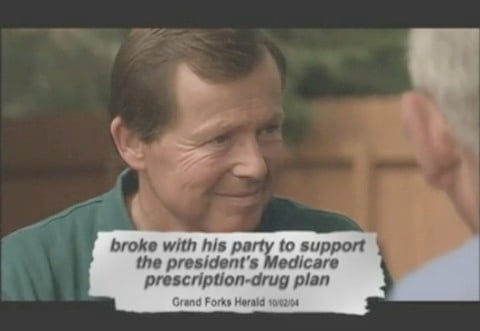 Well here's something queer: a Democrat playing up his connections to the Republicans, namely George W. Bush. Apparently North Dakota Rep. Earl Pomeroy wants to hedge his bets and stress his agreement with the former President to win over some undecided independents or Republicans.
Though he voted for Obama's vilified health care reform, Pomeroy's commercial, called "Difference," points out that Pomeroy broke with his party to support Bush's prescription drug plan: "When George Bush proposed a Medicare prescription drug plan, Earl Pomeroy voted yes, putting seniors before party."
Pomeroy, opposes gay adoption bans and DOMA, hopes the ad will throw Republican opponent Rick Berg off balance. It's certainly going to confuse some die-hard Democrats.
Watch "Difference," AFTER THE JUMP…