Another day, more information about the Eddie Long sex scandal. Today we learn that, according to the Associated Press, Long used a program at his Fellows Youth Academy to impart financial advice to the teen boys and also suggested they carry so-called "sex self-check cards," which would encourage them to abstain from sex.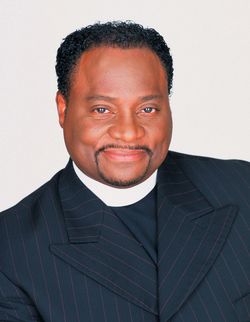 The AP reports on the program:
"It became a place where the bishop could learn the intimate details about these young men," said attorney B.J. Bernstein, who filed the civil lawsuits against Long. The academy trains about 100 students during a four-month session for $500 a person. Long and his board of advisers, which includes NFL star Ray Lewis, created a daunting regimen.

Long, himself a stocky and muscular man, demands the students run 2 miles in less than 15 minutes and bench press and squat their weight. They even have to write a report on the documentary "Super Size Me," which chronicles a man who eats only fast food during every meal for a month.

Long — whose church's finances have been investigated by Congress — wants the students to keep a sharp fiscal mind, too. They have to calculate interest rates on investments and work a job for at least three months. Long also focuses on relationships, with students making a vow of sexual purity. The young men carry a "SEX Self-Check Card" in their wallets listing their vision for life, a favorite scripture and "3 things you could be doing instead of having sex."
Also today, the father of one of the accusers tells the Atlanta Journal-Consittuion that he trusted Long and never suspected that his then teenage son was being victimized.
"He never told me. He never gave me a clue," said Eddie LeGrande, 55, a furniture store worker in Greensboro, N.C. But looking back, he said, "There were red flags." The trips, the gifts, the attention, he said. "I'm very upset about it," he said. "I'm very hurt about it. I'm very hurt for my son."

If the accusations are true, he said, "I think he should be banned from his church. I think he should do jail time, and he should pay the victims for the hurt. He should be used as an example."
Long has been mostly silent on the charges but is preparing to address his parishioners during his sermon tomorrow morning.
Finally, Pastor Jasper Williams Jr. of the Salem Bible Church in Atlanta was asked about the Long scandal. He told reporters that he is praying for the situation and is "forgiving," though he stills belives "homosexuality is a sin." Watch the clip, AFTER THE JUMP.