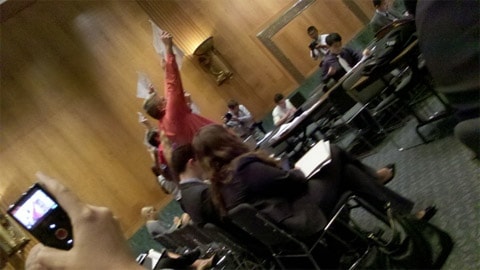 9:49 am – Activists from GetEQUAL and the Arizona group H.E.R.O. have begun a demonstration targeting Senator John McCain (R-AZ) at the Senate Armed Services Committee meeting. 
UPDATES BELOW…
A press release from GetEQUAL:
This morning, supporters of H.E.R.O. and GetEQUAL confronted Senator McCain with images of past civil rights movements and the people who stood in their way, such as George Wallace and Bull Conor. They also held signs saying, "Senator McCain repeal Don't Ask Don't Tell, do you want to be the next George Wallace?" and "Senator McCain repeal Don't Ask Don't Tell, it's not too late to change your legacy. "

"We have spoken loud and clear to Senator McCain and his staff that we are not going away until the Senator stops playing politics with the lives of our men and women in uniform," said Jimmy Gruender, co-chair of H.E.R.O. "Whether it is in Arizona or in our nation's capitol, we will go anywhere, at any time of day to deliver the message to our Senator that he is standing on the wrong side of history and is betraying the patriotic men and women willing to risk their lives for their country."

The Arizona-based H.E.R.O., made up of Senator McCain's constituents, have performed two prior sit-ins at the Senator's offices in Arizona. On both April 26 and May 11 of this year, H.E.R.O.'s members and supporters were arrested in Senator McCain's district offices in both Tempe and Phoenix, Arizona. At both protests, H.E.R.O's volunteers dropped off supplies for the troops currently serving overseas before commencing the act of civil disobedience. Senator McCain addressed the acts of civil disobedience on the campaign trail, during a town hall earlier this year. You can find out more information about H.E.R.O. at: www.herophoenix.com.

"Senator John McCain is more interested in placating the McCain-Palin wing of the Republican party than he is in supporting our men and women in uniform," said Robin McGehee, co-founder and director of GetEQUAL. "My advice to Senator McCain is that he spend a little more time learning about equality from his wife and daughter and a little less time listening to the extreme wing of his party. When 80 percent of the American people, the Joints Chiefs of Staff, military leaders, and active-duty servicemembers all agree that it is past time we stop the firing of critical military personnel, you can be assured that you're standing on the wrong side of history. For that matter, he should watch campaign footage of himself in 2008 where he said if those same groups of people agreed on repeal, he'd support their decision – well, the time is now."
You may recall that H.E.R.O. targeted McCain with a sit-in back in April at the Senator's Arizona offices in which several activists were arrested.
McCain has promised to filibuster any attempt to repeal DADT as part of a larger Defense Authorization bill. He threw a tantrum over it on the Senate floor in early August.
UPDATE 10:15 am – MCCain is apparently refusing to acknowledge the demonstration.

UPDATE 10:24 am – Still standing.

UPDATE: 10:57 am McCain walks out.

I wonder if he ran to his room and slammed the door?!?
UPDATE: 11:05 am Meeting in recess.

What the signs say: