Meanwhile, not surprisingly, the queer characters on television remain mostly white and male:
Male characters continue to outweigh female characters 59% (345) to 41% (242) in overall numbers, while 77% (449) of all series regular characters are white. African American representation has increased slightly to 12% (71) while Latino/a representation has remained steady at 5% (29). GLAAD counted 25 Asian Pacific Islander characters (4%), two more than last season.
Though GLAAD president Jarrett Barrios praised the higher levels of gay on television, he also warned programmers that viewers need to see a positive reflection of their identity, not simply one part of it.
"While the number of characters is increasing, many members of our community still do not see stories reflecting their lives," said Barrios. "It is troubling that the broadcast networks will not feature even one black LGBT character or one transgender character in the upcoming primetime lineup."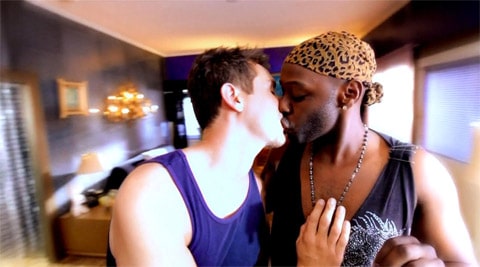 GLAAD today released its 15th annual "Where We Are On TV" review of LGBT television characters on broadcast and cable television shows. It's a mixed bag.
The good news: gay people are more visible on television than ever; the bad news: there is not one LGBT person of color on broadcast television. Actually, there's not a "T" either.
The report shows that 23 LGBT characters will account for 3.9% of scripted series regulars in the 2010-2011 broadcast television schedule, up from 1.1% in 2007, 2.6% in 2008, and 3% in 2009. The number of scripted LGBT series regulars found on mainstream cable networks has rebounded after a two year decline, from 40 in 2007, 32 in 2008, 25 in 2009, to 35 this year.
In cable realm, True Blood takes the cake for having the most LGBT characters, 6 regular, and network ABC wins, again, for having 7.2% of their regular characters — eleven out of 152 — be of the LGBT variety. CBS, meanwhile, came in dead last for having only one LGBT character, the network's first since 2006.