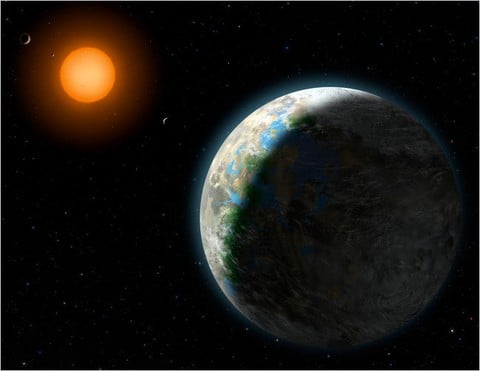 Astronomers are over the moon after hearing of a new "Goldilocks" planet that may be capable of sustaining basic life.
Twenty light years away in the Libra constellation, this celestial treasure, called Gliese 581g and depicted in this NASA/National Science Foundation image, has the perfect conditions for water: not too hot and not too cold, but just right, as in the Goldilocks fairy tale. "This is really the first Goldilocks planet," remarked one of the planet's discoverers, R. Paul Butler. And it's likely the first of many.
The report notes, "That a system harboring a potentially habitable planet has been found this nearby, and this soon in the relatively early history of precision [radial velocities] surveys, indicates that [X], the fraction of stars with potentially habitable planets, is likely to be substantial." It concludes that they could very well be "on the threshold of a second Age of Discovery."
The findings must now be confirmed by other astronomers, to make sure it's not a complete fluke. Then we can all start designing rocket ships to get us there.