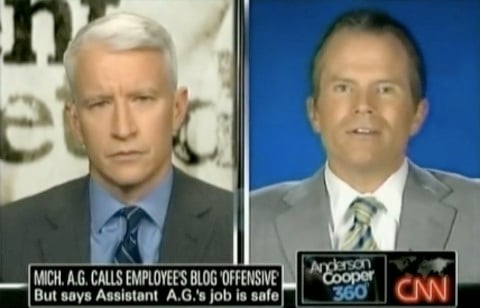 Michigan Attorney General Mike Cox appeared on Anderson Cooper's show last night to defend Andrew Shirvell, his staffer who maintains an exceedingly homophobic blog about the University of Michigan's openly gay student body president, Chris Armstrong.
Though Cox admitted Shirvell's actions are "unbecoming" and that he's "clearly a bully," the outgoing Attorney General insisted Shirvell's well within his Constitutional rights: "Here in America, we have this thing called the First Amendment, which allows people to express what they think and — and — and engage in political and social speech."
He did point out, however, that if Armstrong were to receive a restraining order of some sort, then perhaps Shirvell could, in theory, be reprimanded.
"If a personal protection order was sought by Mr. Armstrong and granted in the Michigan civil service or a disciplinary code," said the Attorney General, "we could start looking at things in terms of perhaps sending to an employee assistance program."
In the end, Cox, who lost his gubernatorial bid to Republican Rick Snyder, threw up his hands about the entire affair, and said, "The reality is, I'm out of office in three months. I have a duty to defend the Michigan Constitution. I have a duty to defend the Michigan civil service rules, even at those times when I don't like it."
While Cox would like to forget the Shirvell scandal, our nation as a whole needs to address it and review the First Amendment. It's not just a freedom of speech. It's a responsibility, we're lucky to have it and people should use it wisely.
People like Shirvell, the unidentified anti-gay blogger from Sen. Saxby Chambliss' office, and homophobic preacher Fred Phelps, whose own free speech brouhaha heads to the Supreme Court next week, misuse and waste their First Amendment rights on ugliness and hate. But of course they all believe otherwise, raising the ultimate, unanswerable question: who decides what's right and wrong when it comes to Free Speech?
Watch Cooper and Cox's exchange, AFTER THE JUMP.