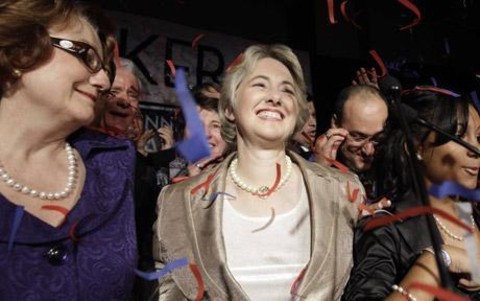 Annise Parker, the first openly gay mayor of a U.S. city with over one million people, opened up to journalist Diane Brady to open up about what it's like to be an out and proud public servant in Houston.
Here's a sample of what Parker, whose sexual orientation once caused a scandal, had to say:
People assume the toughest decision in my life was coming out. But being gay isn't tough—it's who I am. What's been tough is learning how to be social, and how to adapt to public life.

…

I don't get death threats anymore, but I still have to work at being comfortable with the public part of the job. There are so many more images of gay and lesbian people today, and so many ways to be gay. I'm a middle-aged soccer mom and I appear in public with my spouse of 20 years and my kids. It's hard to make me scary. When the job is over for the evening, I go home and pull up the drawbridge. It's a relief when the scrutiny isn't there. But being honest about my personal life pays off every day. 
That line, "It's hard to make me scary," should be put on a gay rights t-shirt.