The Human Rights Campaign recently announced that it will distribute $150,000 three ways in a push to make marriage equality a reality in Minnesota.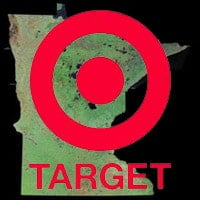 According to the AP, "The Human Rights Campaign will give $100,000 to WIN Minnesota, a political fund backing Democrat Mark Dayton; $20,000 to the gay rights group OutFront Minnesota to mobilize voters; and $30,000 to state candidates, including Dayton. The group announced its plans to give the money last month after Target declined to match its initial donation with another donation to help candidates who support gay rights."
Joe Solmonese says that the donation is more than just a response to Target's own donation to help fund an anti-gay a political candidate. It believes that marriage equality could come to Minnesota very soon.
Human Rights Campaign president Joe Solmonese told The Associated Press in an interview Friday that the donation is partly a response to Target's donation to a group helping Republican Tom Emmer in the governor's race. Emmer opposes gay marriage, and the Target contribution set off a national backlash among liberals and the retailer's gay employees and customers.

The Washington-based gay rights organization may spend more in Minnesota, which Solmonese said he views as one of the next states that could legalize gay marriage. Solmonese will deliver the keynote speech at the Human Rights Campaign's annual Twin Cities dinner in Minneapolis on Saturday. "We've understood long before the Target situation that Minnesota was poised, as is New York, to be the next state to win marriage equality," Solmonese said.
You may remember that last month The HRC recently said that it would remove Target from its Buyer's Guide list.